The Queen's messages in the first month of this quarantine were the most uplifting and heartfelt of all the messages by world figures/leaders.
Many religions have festivals which celebrate light overcoming darkness. Such occasions are often accompanied by the lighting of candles. They seem to speak to every culture, and appeal to people of all faiths, and of none. They are lit on birthday cakes and to mark family anniversaries, when we gather happily around a source of light. It unites us.
I love that. Light unites us.
The other thing uniting us is how ridiculous we all look in our masks. They are necessary to protect ourselves and others when we have to be out and about, and I know it is a very serious thing, but when people use bandanas as their masks I cannot even contain my grin. Every single time I see someone in a store with a bandana on their face it makes me think "bank robber!" And every single time I have to stifle the giggle inside me.
I had to go back and double check, and I was surprised that my favorite bank robbers didn't actually wear bandanas. I assume that's because it would have been a crime to cover up faces that handsome.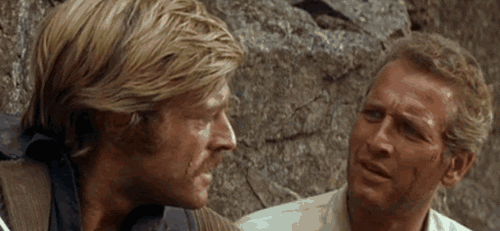 It's definitely time to watch Butch Cassidy and the Sundance Kid again. My most recent quarantine discovery that will come in handy for that viewing: the wine that best pairs with Krispy Kreme is pinot grigio.
One of the ways I'm committed to being a professional and responsible adult during this time when all food and desserts are available for delivery is that I wear pants with a button 5 days a week, even though I'm working from home.
And that brings me to I do not recommend Korean beef during a pandemic. It was something different and it was fantastic, so I ate a ton of it. But then the spiciness made me sweat, which made me think I had a fever, which sent my brain down a dark path for a bit.
In one of those late night moments when my brain was unable to rest, I came across this gem and I keep coming back to it: Pray. Not until God hears you, but until you listen to God.
Audrey is praying hard for a new pet and I am not sure which one of us God is listening to or which one of us is listening to God. I completely underestimated how much of an advantage the stay-at-home order gives to children trying to wear parents down about something. She initially wanted a hamster, and I won that battle by revealing their tendency to bite with very sharp teeth. But then she researched rodents/pets that might be more "docile." Thank you, Virginia Beach City Public Schools, for encouraging a focus on vocabulary as part of distance-learning lesson plans and for the addition of that word to her vocabulary. Each day she's reading new facts about guinea pigs and reciting them all to me, including through the door of my bathroom, and all the while she's getting school credit for it. In summary, I'm pretty sure that I'm going to end up buying this child a guinea pig.
There is noise all the time. Hoverboards and roller skates and televisions and iPads and lawn mowers and cats wanting to overeat and phone notifications. There is noise all the time. Someone is talking all the time. From the moment I wake up to the moment I fall asleep. And maybe even after, and I just am not aware of it. Because everyone on the planet is stuck in their house, and we are not interacting with friends and coworkers in the same way, everyone just seems to want to talk more – whether in person or on Zoom or on Facetime – and it's exhausting. I need quiet, and my number one struggle of this time is that there is little-to-no quiet around me or inside my brain.
This week I let my teenager stay up all night on Facetime with her gal pals because they can't have sleepovers right now and she didn't have schoolwork this week – and I think it's quite possible she will remember those giggles and TikTok dances for the rest of her life. And you know what, judge-y Moms who have maintained bedtime routines, after feeding their children organic brussels sprouts? I'm not sorry. Kudos to those with a work and school schedule that's neatly color coded on a white board in your kitchen. I fall somewhere in the middle of the human spectrum, with the regular mommas, between the girls capable of being an educator and the girls focused on their makeup and hair.
This is the longest my hair has been since college. And it's annoying.